Wild Speculation Part Deux: John Abraham Back to Atlanta?
As part of bringing you any news relevant to the Falcons, John Abraham's sister seems to be insinuating that 55 may be coming back to Atlanta.
About 45 minutes ago, she tweeted:
         Well @johnabraham55 Welcome Back! In my Jeezy voice
Welcome back?  //revs up baseless speculation machine.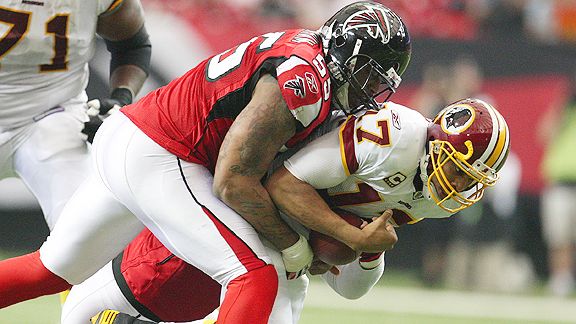 Abe delivering a patented "Predator hug"
Unless he is returning to the Jets, or maybe just from out of town, Abe may be coming back to Atlanta.
Well, we then have a winking eye after this tweet!  
        ;-)
I have seen a number of winks on twitter before, and almost all of them preceded a player signing with Atlanta.  Don't challenge me on that one.
How about five minutes ago?  What did she tweet?
       I Will confirm after he sign ;-)
If another wink does not guarantee Abraham is not back in red and black next year, I do not know what else would.  Unless if his sister is trying to troll Falcons fans, this certainly is a nice sign Abe will be back.  Or it means nothing.  I keep wavering on this one.